OrthoM-Mico One : Stainless Steel Mini Screw From Taiwan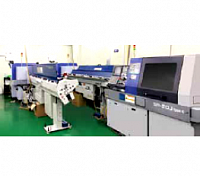 Stainless Steel Mini Screw (SS Mini Screw)
Nowsday, orthodontic treatment has been continuously developed. There are new innovations happen all the time and there are new devices are getting more and more. That is mini screw or a temporary anchorage device (TAD) is a device that mostly clinicians prefer to use for combined orthodontic treatment, surgically placed through alveolar cortical bone to be used as temporary anchorage devices – biocompatible devices fixed to bone for the purpose of enhancing orthodontic anchorage either by supporting the teeth of the reaction unit or by obviating the need for the reaction unit altogether, with the devices being subsequently removed after treatment.   

Stainless Steel Screw
  are made of High Stainless Steel (SUS316L)
Use the highest quality Germa Zapp materials*
Shape of mushroom
Self-drilling design for improving the efficiency of insertion
Taper thread design for improving the strength of implanting
Lower platform length
Smooth cervical region
Reinforcement screw body  
(*) We use the highest quality Germa Zapp materials are non-toxic and biocompatible, have favorable mechanical properties, and be able to resist stress and strain with proven effectiveness in clinical and experimental studies. 

Size of SS Mini Screw From Taiwan
1.5x8L and 1.5x10L (Original Type)
2.0x10L and 2.0x12L (KW Type*)
(*Remark: KW Type by Dr. Kowit Poolsin)
Recommend :
Diameter 1.2-1.5 mm.screws are suitable for sites such as the interdental alveolar bone.
Diameter 2.0 mm.screws are suitable for sites such as the zygomatic ridge or the retromolar pad.
Mini screw length : if longer than 10 mm. could result in greater risk of iatrogenic perforation.
*We're provide eight different types to satisfy the multiple demands of Orthodontists.
Indication and advantage of SS Mini screw
Patient with hypodontia.
Asymmetric tooth movement.
Correction of occlusal canting.
Alternative to orthognathic surgery.
Retreatment cases.
Cases for low patient coorperation.
Decrease chair time.
Uses of SS Mini screw
Intrusion of upper or lower anterior teeth. 
Intrusion of supra-erupted upper posterior teeth.
Mesialization of molars.
Correction of crossbite.
Distalization of molars.
Retraction of anterior teeth.
Use of mini screw with functional appliances.
Mini anchorage screws have become increasingly popular over the last 5-6 years. Easy to use , versatile designs , biocompatible and immediately loadable remain their top merits. 
Mini anchorage screws are a powerful aid for the orthodontic clinicians in resolving challenging malocclusions. Their use many reduce the number of surgical and extraction cases and greatly facilitate the treatment of patient with low compliance, borderline surgical needs and those requiring retreatment but, Mini screw failure might delay treatment time. 
A good knowledge of factors affecting Mini screw success will help you to increase their success rate, thereby achieving desired treatment results and save chair-side time.