Special Wires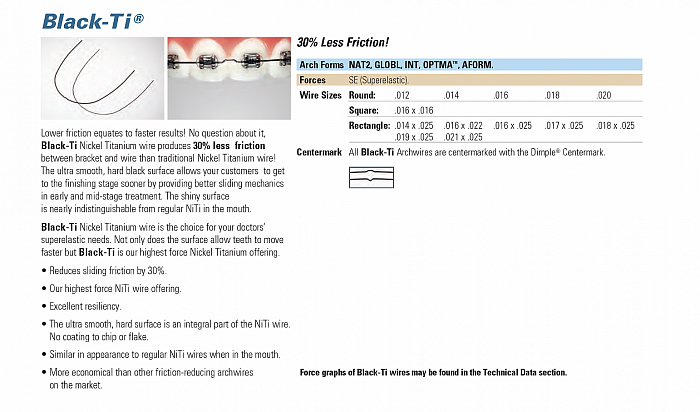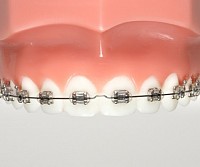 Nickel Titanium (NiTi) Black-Ti®
Lower friction equates to faster results! No question about it, Ultimate's Black-Ti Nickel Titanium wire produces 30% less friction between bracket and wire than traditional Nickel Titanium wire! The ultra smooth, hard black surface allows your customers to get to the finishing stage sooner by providing better sliding mechanics in early and mid-stage treatment. The shiny, black surface is nearly indistinguishable from regular NiTi in the mouth.
Black-Ti Nickel Titanium wire is the choice for your doctors' superelastic needs. Not only does the surface allow teeth to move faster but Black-Ti is our highest force Nickel Titanium offering.
Reduces sliding friction by 30%.
Our highest force NiTi wire offering.
Excellent resiliency.The ultra smooth, hard surface is an integral part of the NiTi wire.
No coating to chip or flake.Similar in appearance to regular NiTi wires when in the mouth.
More economical than other friction-reducing archwires on the market.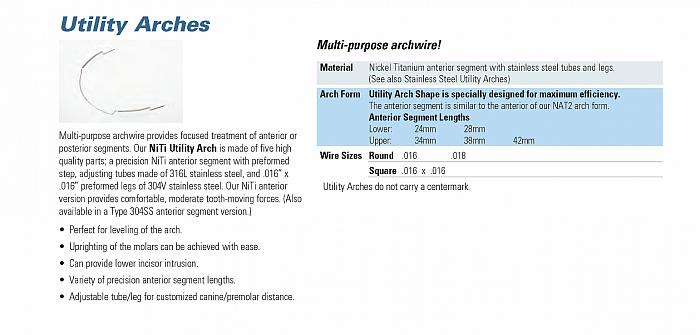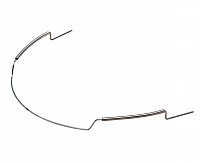 Nickel Titanium (NiTi) Utility Arches
Multi-purpose archwire provides focused treatment of anterior or posterior segments. Our NiTi utility arch is made of five high quality parts; a precision anterior segment with preformed step, adjusting tubes made of 316L stainless steel, and .016" x .016" preformed legs of 304V stainless steel. Our NiTi anterior verison provides comfortable, moderate, tooth-moving forces.
(Also available in a Type 304SS anterior segment version.)
Perfect for leveling of the arch.
Uprighting of the molars can be achieved with ease.
Can provide lower incisor intrusion.Variety of precision anterior segment lengths.
Adjustable tube/leg for customized canine/premolar distance.  
Arch FormUtility Arch Shape is specially designed for maximum efficiency.
The anterior segment is similar to the anterior of our NAT2 arch form.
Anterior Segment Lengths
Lower: 24mm 28mm
Upper: 34mm 38mm 42mm
Wire SizesRound:.016  .018      
Square:.016 x .016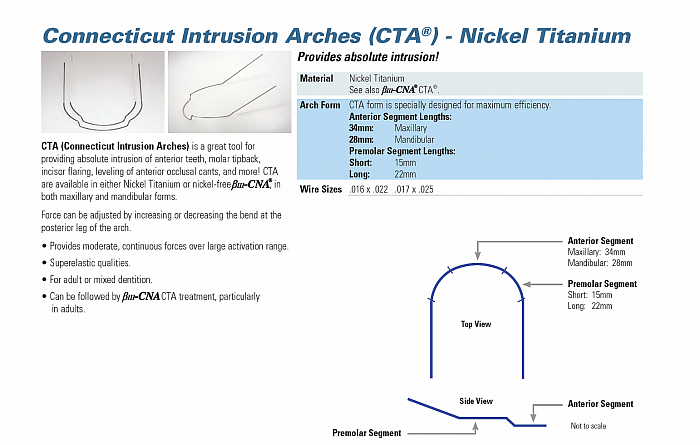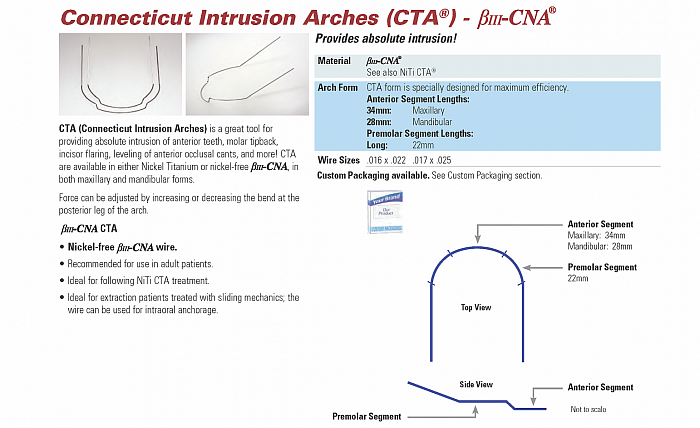 CTA® (Connecticut Intrusion Arch) is a great tool for providing absolute intrusion of anterior teeth, molar tipback, incisor flaring, leveling of anterior occlusal cants, and more! CTA are available in either Nickel Titanium or Nickel-Free ßIII-CNA®, in both maxillary and mandibular forms.
Force can be adjusted by increasing or decreasing the bend at the posterior leg of the arch.
Nickel-Free ßIII-CNA®
Recommended for use in adult patientsIdeal for following NiTi CTA treatmentIdeal for extraction patients treated with sliding mechanics, the wire can be used for introral anchorage.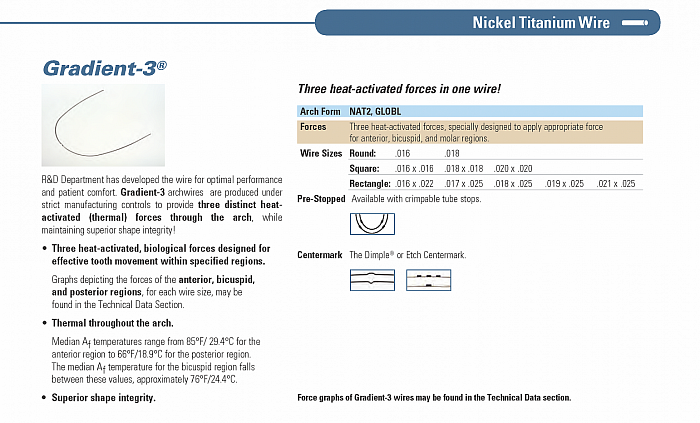 Nickel Titanium (NiTi) Gradient-3®
wire for optimal performance and patient comfort. Gradient-3 archwires are produced under strict manufacturing controls to provide three distinct heat-activated (thermal) forces through the arch, while maintaining superior shape integrity!
Three heat-activated, biological forces designed for effective tooth movement within specified regions.
Thermal throughout the arch.
Median Af temperatures range from 85°F/ 29.4°C for the anterior region to 66°F/18.9°C for the posterior region. The median Af temperature for the bicuspid region falls between these values, approximately 76°F/24.4°C.
Superior shape integrity.
The anterior region has the lowest heat-activated force,as the anterior teeth have the lightest roots.
The bicuspid region has a slightly greater heat-activated force to move the larger rooted bicuspids.
The posterior region has the greatest heat-activated force of the archwire, for moving the strong-rooted molars.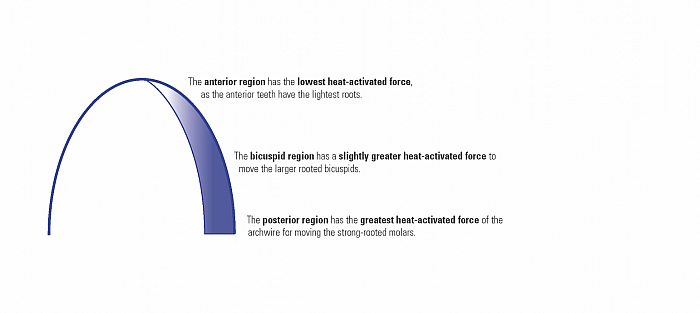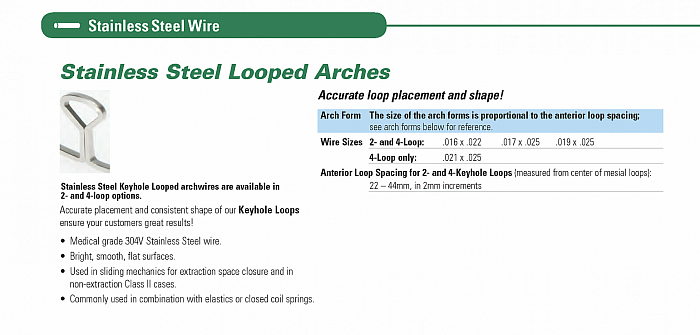 ORTHO M: TITANIUM & STAINLESS MINI SCREW
Mini Screw
Orthodontic Anchorage micro implant
Introduction:
Microimplant anchors, also known as temporaryanchorage devices, mini- and micro-screws, have been used to enhance orthodontic anchorage for difficult tooth movements. Here, the authors describe how microimplants can be used to help treat craniofacial patients bysupporting distraction osteogenesis procedures, maxillaryprotraction procedures, cleft segment expansion and stabilization, and tooth movement into narrow alveolar cleft sites. While most craniofacial patients are treated without microimplants, it would be worthwhile to identifywhich cases could benefit from microimplant anchorage. As an adjunct to orthodontic treatment, the microimplant offers a potential method for solving troublesome orthodontic and surgical problems such as guiding distraction procedures with orthodontics when primaryteeth are exfoliating, addressing residual maxillarycants after vertical distraction osteogenesis of a ramus, stabilizing an edentulous premaxilla, and moving teeth into atrophic alveolar ridges. These cases are presented to open a dialogue on their possible uses in craniofacial patients.
Features:
1. Greater control of tooth movement
2. Increased patient comfort
3. Decreased reliance on patient compliance
4. Anchors are self-tapping, allowing for easy placement and removal chairside
5. Anchors have a multi-functional top offering maximum versatility and performance
6. Anchors are available in multiple lengths
7. Complete system includes an autoclavable, fully loaded kit that allows for easy storage of all
8. components while not in use vacuum package can be autoclaved directly.
คลิกเพื่ออ่านรายละเอียดเพิ่มเติม ...