OrthoM Wire Made in USA

Quality. Service. Innovation. Support.
เราคัดสรรสินค้าที่มีคุณภาพมาไว้บริการคุณหมอทุกท่าน เริ่มจากโรงงานลวดที่ได้มาตรฐานและมีทีมงานที่มีประสบการณ์ดูแลและพัฒนาสินค้าตลอดเวลา จึงทำให้ลวดจัดฟันเป็นที่ยอมรับของอาจารย์และหมอจัดฟันทั่วโลก จากประสบการณ์กว่า 50 ปี ทำให้คุณหมอเชื่อมั่นได้ว่า ทางบริษัท ไอดิว พลัส ได้คัดสรรสินค้าที่มีคุณภาพมาตรฐานสากล ส่งถึงมือคุณหมอทุกท่านอย่างแน่นอน
"ลวดจัดฟัน" คุณภาพมาตรฐานสากล 
ต้องลวด "OrthoM"
หากคุณหมอมีปัญหาเรื่องการจัดฟันคนไข้ที่ใช้ระยะเวลานานๆ
ลองใช้ลวด OrthoM ดูสิคะ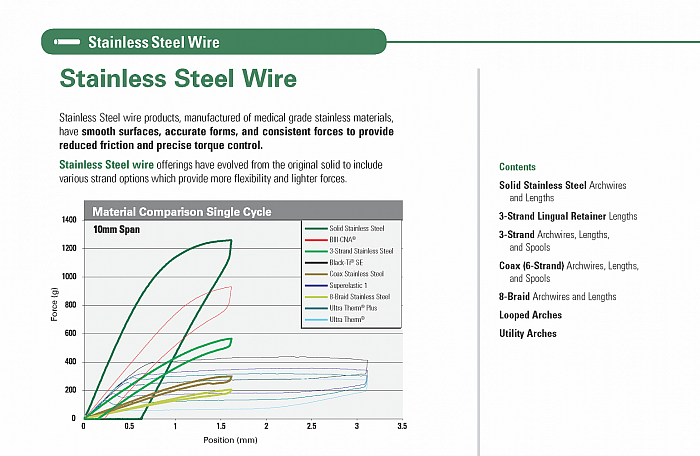 Stainless Steel Wire
Stainless Steel wire products, manufactured of medical grade stainless materials, have smooth surfaces, accurate forms, and consistent forces to provide reduced friction and precise torque control.
Stainless Steel wire offerings have evolved from the original solid to include various strand options which provide more flexibility and lighter forces.
Stainless Steel Solid
Stainless Steel archwires are produced of high quality medical grade Type 304VSS material with highly polished surfaces to provide reduced friction between bracket and arch. Their high forces are well-suited for stabilizing positioned teeth during mid- to late stages of treatment. Rectangular wires offer precise torque control for these same stages.
Solid Stainless Steel Lengths (14") produced of high quality Type 302SS material have a smooth finish and are available in a wide range of wire sizes for custom appliance fabrication.
Superior smooth, bright finish.Precise shape and flatness of arches is ensured through tight production control.Best suited as finishing wire, as forces drop quickly as teeth move.Easy bend placement.Good corrosion resistance.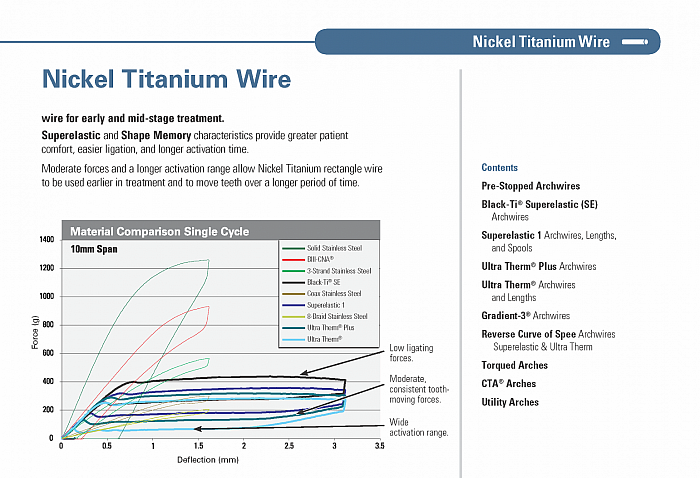 Nickel Titanium
Superelastic and Shape Memory characteristics provide greater patient comfort, easier ligation, and longer activation time. Our Z-bend test now provides a good visual of these wire aspects.
Moderate forces and a longer activation range allow Nickel Titanium rectangle wire to be used earlier in treatment and to move teeth over a longer period of time.
Through tight control on raw material and our production processes, we are ableto offer a variety of consistent tooth-moving forces ranging from moderate(Superelastic) to light (Heat-activated/Thermal). Heat-activated wiresare soft and pliable at room temperature, allowing the doctor to easily ligate eachpatient while still obtaining the proper forces during treatment.  
Superelastic 1 (SE1) wire rounds out austenitic Nickel Titanium wire line. The moderate, consistent forces exhibited by SE1 wire provide a great avenue for early to mid-stage treatment. It provides slightly less force than our Black-Ti wire, and is fully austenitic at room temperature. Due to its high flexibility and resiliency, Ultimate's Superelastic 1 wire recovers beautifully from bends and deformation of angles up to 45°, and even up to 75° in some cases!
Moderate, consistent force over a long activation period.Greater patient comfort than with Stainless Steel wires.Excellent resiliency.Highly flexible.Responsive to chilling.Af of 45-60° F (7.2-15.6°C).Square and Rectangle wires offer ability to simultaneously level and add torque and rotation earlier in treatment. More efficient than treatment with Stainless Steel.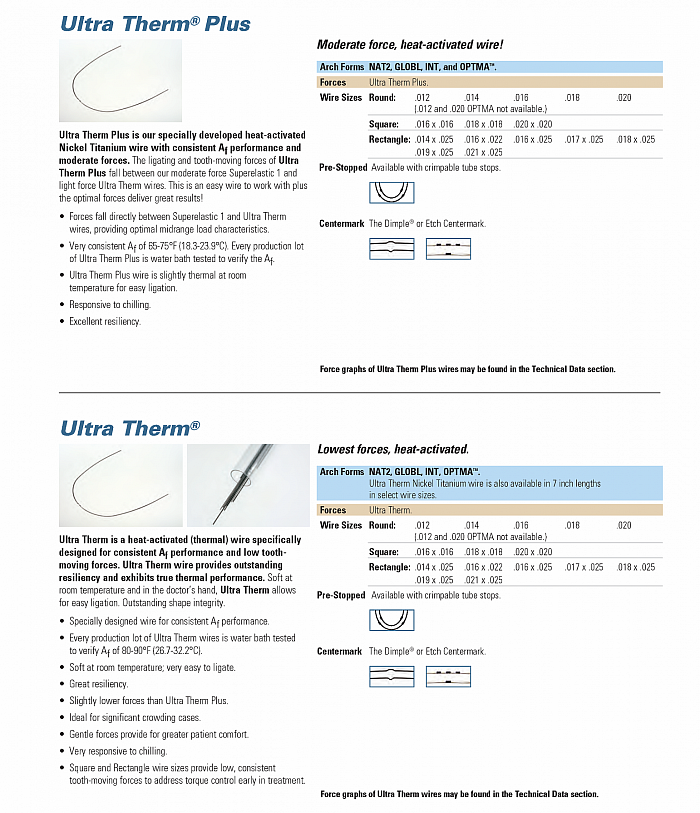 Nickel Titanium (NiTi) Ultra Therm® > Thermal Niti
Ultra Therm is a heat-activated (thermal) wire specifically designed for consistent Af performance and low tooth-moving forces. Ultra Therm wire provides outstanding resiliency and exhibits true thermal performance. Soft at room temperature and in the doctor's hand, Ultra Therm allows for easy ligation. Outstanding shape integrity.
Specially designed wire for consistent Af performance.
Every production lot of Ultra Therm wires is water bath tested to verify Af of 80-90°F (26.7-32.2°C).
Soft at room temperature; very easy to ligate.Great resiliency.
Slightly lower forces than Ultra Therm Plus.Ideal for significant crowding cases.  Gentle forces provide for greater patient comfort.
Very responsive to chilling.Square and Rectangle wire sizes provide low, consistent toothmoving forces to address torque control early in treatment.  
Nickel Titanium (NiTi) Ultra Therm® Plus > Spacail Thermal Niti  
Ultra Therm Plus is our specially developed heat-activated Nickel Titanium wire with consistent Af performance and moderate forces. The ligating and tooth moving forces of Ultra Therm Plus fall between our moderate force Superelastic 1 and light force Ultra Therm wires. This is an easy wire to work with plus the optimal forces deliver great results!
Forces fall directly between Superelastic 1 and Ultra Therm wires, providing optimal midrange load characteristics.
Very consistent Af of 65-75°F (18.3-23.9°C).
Every production lot of Ultra Therm Plus is water bath tested to verify the Af.
Ultra Therm Plus wire is slightly thermal at room temperature for easy ligation.
Responsive to chilling.Excellent resiliency.  
RCS3 provides a 'shallower' radius than our RCS1 archwire and, thus, provides a lighter force. It is easier to ligate and provides gentler, more comfortable tooth movement.
RCS5, our specialty arch, with its sweeping, straight legs provides multiple solutions. RCS5 is the answer for tilting back molars for anchorage purposes. It easily puts curve of spee on the upper arch and can be used to torque the molars buccally. Intrusion or extrusion of anterior teeth can also be accomplished. When flipped, it can be used to expand the lower arch. This is truly a multi-function arch!
Nickel Titanium (NiTi) Reverse Curve of Spee
Reverse Curve of Spee (RCS) archwire shapes to meet your correction of curve of spee needs. All are carefully finished to ensure that the wire slides easily through the bracket slot and applies continuous force for ideal movement. RCS can be used for bite correction or, with springs and elastomerics, for retraction.
Available in both Superelastic 2 and heat-activated Ultra Therm® forces.
Superelastic 2 RCS wires provide light to moderate, constant forces. These wires are flexible and exhibit excellent resiliency.
Ultra Therm RCS are shape-memory, heat-activated wires which are soft at room temperature for easy ligation and become fully active in the mouth. The gentle forces remain consistent throughout placement and are noticeably more comfortable for the patient. The superb flexibility reduces the chance of debonding brackets.
Bite opening or closing.
Initial leveling and aligning.
Arch consolidation and expansion.
Deep and open bite correction.
Retraction of flared, protruding incisors.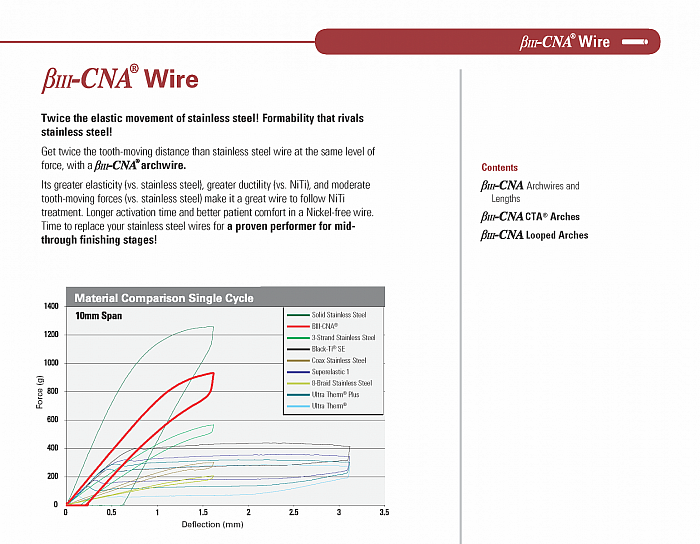 ßIII-CNA® > TMA
Twice the elastic movement of stainless steel! Formability that rivals stainless steel!
Get twice the tooth-moving distance than stainless steel wire at the same level of force, with a ßIII-CNA® archwire.
Its greater elasticity (vs. stainless steel), greater ductility (vs. NiTi), and moderate tooth-moving forces (vs. stainless steel) make it a great wire to follow NiTi treatment. Longer activation time and better patient comfort in a Nickel-free wire. Time to replace your stainless steel wires for a proven performer for mid-through finishing stages!
Easy placement of bends and loops at chairside saves time! ßIII-CNA® wire bendability makes it the perfect wire for custom tipping, aligning, space closure, rotation, and tooth movement. The resiliency and moderate tooth-moving force of ßIII-CNA® makes it a great wire for mid- to late stages of treatment.
Working directly with our vendors to draw and roll our own ßIII-CNA® wire to our tight quality specifications ensures that every archwire you purchase has consistently great formability and accurate activation range.
Along with preformed arches and specialized archwires, we offer a wide variety of ßIII-CNA® 14 inch lengths. Large, round wire lengths are ideal as retainer wire in the fabrication of retention appliances and transpalatal/palatal arches. The formability and resiliency of the rectangle and small, round lengths allow for custom fabrication of molar distalizing appliances, spring arches, sectional arches, and other devices where intricate loops and bends are needed.
ßIII-CNA® Solid > TMA Solid
ßIII-CNA® wire is becoming the wire of choice for mid- through finishing stages of treatment. This nickel-free wire offers twice the elastic movement of stainless steel, while maintaining like formability. With lower bend force levels than stainless steel, it provides more comfort for the patient as well as ease of use by the clinician. Its formability is ideal for chairside placement of loops and bends for space closure, tipping, or focused tooth movement. Lengths are perfect for fabrication of auxiliary arches, retainer and palatal appliances, as well as devices requiring intricate bends or loops.
A far more efficient wire than stainless steel, with twice the tooth-moving distance at the same force level!
More patient friendly: Bend Force values between NiTi and SS.
Excellent cold-forming properties – comparable with SS.
Ni-free! Eliminates nickel-sensitivity concerns during later stage use of larger wires and longer time periods.